I do love the magic of social media, and how it can connect you with amazing people from around the UK & the rest of the world. I am still getting to grips with social media for the purpose of getting Green Loving Girl "out there", but in the meantime, I am meeting lots of amazing, creative people.
Recently, while taking part in #bridehour via @bridehour (Every Thursday night 8pm - 9pm UK time), I got talking with Sophie, the very talented lady behind Pompom Blossom. Sophie has had her stunning wedding featured on Rock My Wedding (how amazing is that!), and has started her own business creating unique bespoke hand-dyed frilly tissue pompoms. Each sheet of tissue is hand dyed and feathered, with each pompom taking about 2 hours to make!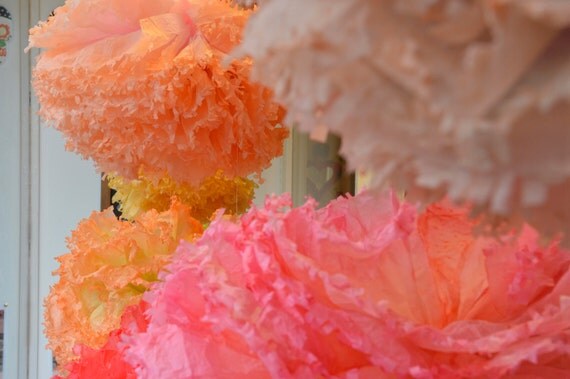 I am thrilled that Sophie has offered to make some pompoms for my wedding (thank you #bridehour and of course Sophie!). Sophie, as well as being really lovely to speak to, is also very professional and has asked me a lot of questions in order to get a good feel of the wedding and what colour pompoms would be better suited, as she can use her magical gift to create pompoms of all colours.
If you are looking for something beautiful, colourful and unique for your wedding, please say hello to Sophie on
facebook
or directly via her shop on
Etsy
.
I can't wait to decorate the venue with these stunning decorations, and will of course share the end result with you (only 346 days to go!).
Did you use unique, bespoke decorations for your wedding? What about social media, do you find it useful as a way to connect with various services and businesses? Do share your tips, I would love to hear from you :)