Soooooo it seems I may have said yes to running a marathon... in April. Just like that. That's a whole 42 kilometres, or 26+ miles for you non-metric folks. In six months... Did I mention I've just had a baby? And that I haven't run in over a year with the pregnancy etc? Also my stomach muscles are still on the mend (apparently having a 10lbs9 baby will do that to you) so unable to exercise at all for now... But truly, those are just tiny little irrelevant details right?
My sister Chloe and her boyfriend have been running for several years and greatly enjoy it. I've always struggled with running... As much as I love exercise, I am incredibly lazy and getting me out of the door to train is very difficult. Luckily Barry is great at taking this onboard and kicking me out of the house to ensure I train!
Chloe has been trying to get me to run a marathon with her for some time now, and I've been unsure as to whether I could. However with all the recent events in my family, although

I am by nature a pretty optimistic person I have been feeling rather overwhelmed.

In light of this, when Chloe was talking about which marathon to run this Spring, I suddenly thought "sod it, let's do it!" (excuse my French!). Running has always done wonders for my mind as well as my body so it sounds perfect! I also turn 30 in April so what better way to celebrate than to run my first marathon and fundraise money for a good cause!! It is therefore decided, I will be running the Paris marathon with my sister on April 6th!
We're going to sign up for it tomorrow... So if we get in, I'll be posting my training progress on a regular basis. If I don't, well I'll probably post some more about cakes until I find my next fitness goal. Hopefully I'll get in though, as I will then be able to eat as much cake as I like... for my energy levels you see ;)
Slightly pink face but green medal, yay!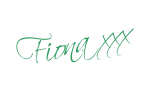 *All images unless otherwise noted are my own, so please do not use them without my permission.*